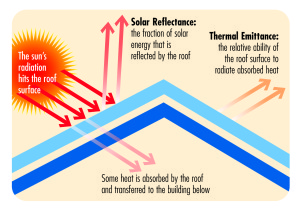 Title 24 Cool Roofs can greatly decrease building and home owners' energy costs, and increase the life expectancy of the roof. Cool roofs work by reflecting suns energy back into the atmosphere, better known as "solar reflectance" which gains less heat than traditional roofs, saving energy so there isn't such a necessity on running air conditioning units. This roofing system also can benefit our city of Los Angeles by decreasing the urban heat island effect, which makes our cities hotter and produces unhealthy air.
Fortunately, cool roofs have become so popular, material manufacturers make a variety of colors and materials. They are often found in lighter colors for low-sloped roofs, and for steep-sloped roofs, material can be found in many colors, and styles such as shingle, shake, tile, and membrane.
In October 2005, the city found the benefits of having a Title 24 Cool roof were so abundant, it became part of the requirements of California's energy code, the Title 24 Building Energy Efficient Standards. As of January 1, 2015 the city of Los Angeles now requires new residential construction and re-roofs to be installed with the cool roof system.
To learn more about how cool roofs save money and energy, click here.